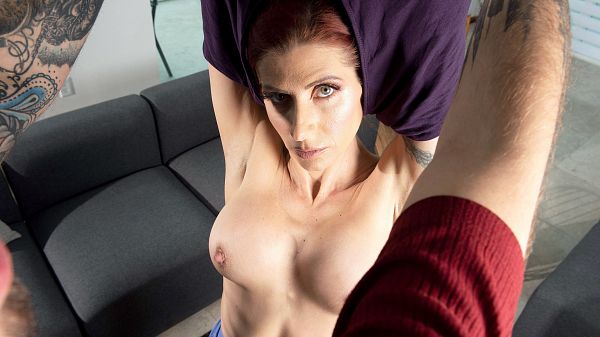 When this scene opens, first-timer Gabby Lamb is exercising. This 42-year-old divorcee and MILF is wearing butt-hugging shorts and a midriff-revealing top that show off her beautiful body. We get nice views of her slender legs, shapely ass and long, red hair. And it turns out that someone else is getting a nice view of her, too.
"You watching me?" she says to the dude, who's watching from above. She invites him down for a closer look.
"You really know how to move," he says. Damn right she does.
Before long, Gabby is exercising his big dick, jacking and sucking it then showing us how her pussy moves on a stiff penis. She and her partner–who could be you in this P.O.V. scene–work up quite a sweat, and Gabby ends up opening her mouth for his jizz. Hmmm…cum has calories, doesn't it? Maybe Gabby should workout again. She's welcome to do it for us any time.
We said she's a milfs. She has seven kids. The fact that she has that many kids and that body is a fuckin' miracle. Dames like Gabby are the reason we wake up every morning and thank the porn gods.
We asked Gabby if the people she knows would be surprised to see her at 40SomethingMag.com and she said, "Not friends. Family, maybe, but I don't know if they would ever look and find me."
Gabby says she surrounds herself with open-minded people. Hey, we're open-minded!
Gabby has been a nurse and an exotic dancer. She found us through a friend. We asked her if she's a nudist and she said, "I relax nude and am not shy about my body."
There's absolutely no reason she should be.