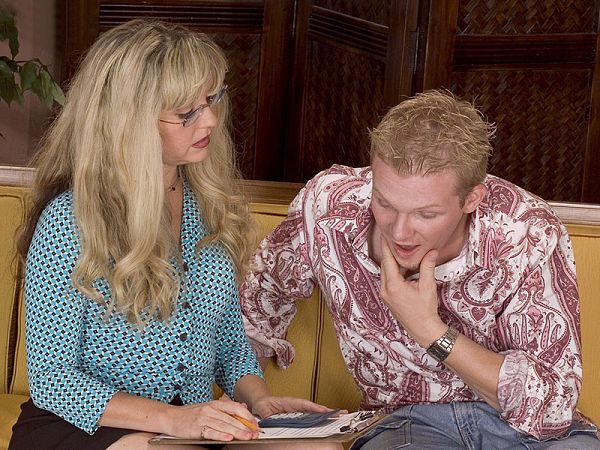 In this remastered scene which has never been available to stream on any of our websites, Beth Ann, a 42-year-old divorcee and mom from Houston, Texas, is a tax accountant. As we wrote when this scene originally posted, "Beth Ann proves that accounting isn't as boring a job as it might seem and not all accountants are sitting behind their desks wearing horn-rimmed glasses and pocket protectors."
Nope. Beth Ann is wearing a very short skirt, and it's slit, too. She immediately gets J.T.'s attention when she bends over to look into her filing cabinet. Before long, he doesn't care how much money he owes or doesn't owe, and his numbers are rising. He fucks Beth Ann every which way right there in her office and cums all over her pretty face.
"My fantasy is to have sex outside in a public area at night, near or on the beach," Beth Ann said. "I like to restrain my men."
Kinkiest sexual encounter: "I tied up my boyfriend and whipped him and dripped ice and candle wax on him."
Her kind of guy: "The Teddy Bear type. A little extra weight."
When Beth Ann came to our studio, she was single and not having much sex.
"About once a month," she said.
In September 2005, that one time was on-camera for us.