Erica's 61. Madison's 66. Guy is in his 20s!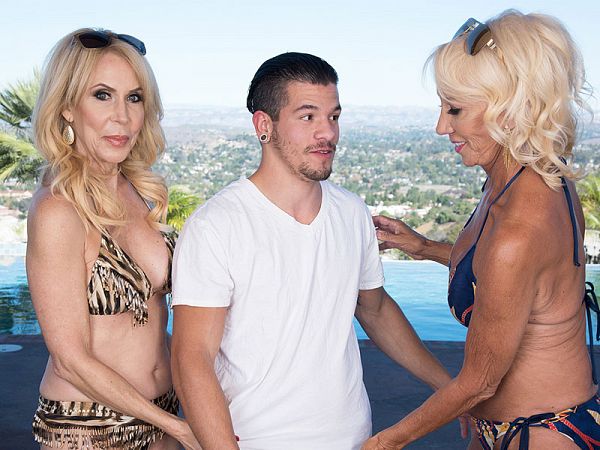 Madison Milstar is 66 years old, Erica Lauren is 61 years old, and you'd never know it by hot they look in their skimpy bikinis. The guy they're fucking in this scene is in his 20s, young enough to be their son, not quite young enough to be their grandson but not far off. As far as they're concerned, he has a big dick and a hard-on and he's old enough to fuck.
Erica is a porn starlet who has been fucking on-camera for 12 years. Madison is relatively new to porn, having sucked and fucked her first on-camera cock for us in 2015. They really have nothing in common except extreme horniness and a love of big, hard dicks.
Madison, who's 5'10" tall and married, told us, "My husband had shot pictures of me before. The first time, he strapped me down on the bed, which was my first time being tied up, with Velcro straps, and he blindfolded me and started tickling me with a feather and touching me with different things, like ice cubes, and I was going crazy. Pinching me with little clothes pins. That went on for about 40 minutes, and when he took the blindfold off, I saw that he had been filming.
"He goes to your websites all the time. He especially likes 50PlusMILFs,com and 60PlusMILFs.com. He calls me a super GILF. He got me interested in all this and said, 'I can make this happen.'"
He did, although Madison's the one who really makes things happen.
Erica didn't plan on becoming a porn star, "but you never know where life is going to take you," she said. "You think about life-changing moments, and we make choices all the time, but a lot of them don't alter your life. Well, this one did. I answered an ad, I showed up. They took some pictures of me and sent them out, and I got booked the very next day. The first thing I ever did was anal."
We asked Erica, "You like the idea that there are 20-year-old guys out there watching you and jacking off, don't you?"
And she said, "Oh, yes, and how many 60-year-old women can say that? So if you're a woman out there who's thinking about it, you're never too old and it's never too late, and you can be confident and rock your sexual side."
And rock our worlds while you're at it.