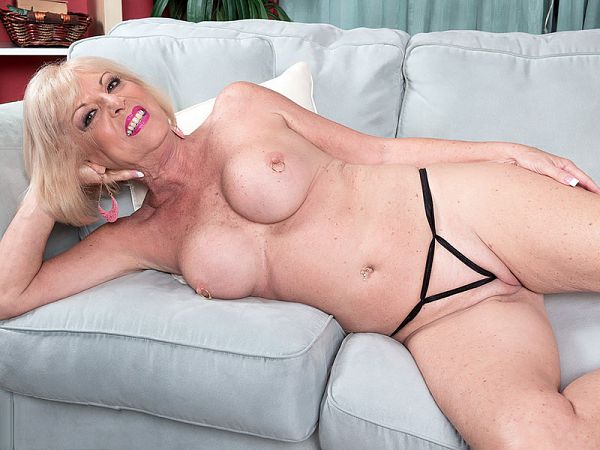 Scarlet, a 65-year-old wife, mother and grandmother from Tampa, Florida, is-get this!-the director of marketing and events for a nudist resort in Tampa.
We suspect most of those events involve pussy, cock and cum.
"They do," Scarlet said. "But not all of them."
This scene involves pussy and cumming. The pussy belongs to Scarlet. She's wearing crotchless panties under her dress, the better to access her pussy more easily. She's also the one doing the cumming. She fucks her shaved pussy with her fingers, which get very wet, and a big dildo.
By the way, Scarlet has pierced nipples. She's not your ordinary granny.
"My husband likes the fact that I can be a little on the wild side but still play the Southern belle," she said.
Scarlet was born and raised in Birmingham, Alabama, where the women are very conservative and generally don't walk around in crotchless panties.
"Alabama was just too rigid, so I went to college and came out of college and became a flight attendant," she said.
And then she became a swinger and then she started doing this. Showing her pussy and fucking on-camera, that is.
"I'm horny all the time," she said. "I love to fuck. Sometimes all you have to do is ask."