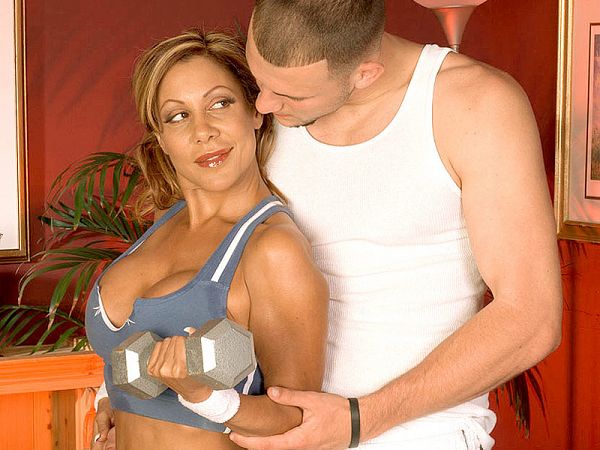 Demi Delia was once interviewed by The Village Voice newspaper, and when asked how she balances being a mom and a porn star, she said, "It's difficult sometimes because you sort of live two lives. When I'm at home in the morning before a shoot, I'm running around like a mad woman making sure I have everything I need, the dogs have food and water, the kids have things to eat for the day and the house is straightened up.
"Then I get to the set, get into makeup, wardrobe and I become Demi Delia the porn star. I have to change my frame of mind immediately, and when I walk in my home after shooting, I leave it all behind and become Mom again."
In this scene, Demi is Demi the Porn Star. Her husband hired her a new physical trainer, and this dude doesn't seem to know much about training. He just keeps watching her, doing nothing, and then Demi bends over and pushes her ass into his crotch. Finally, he helps her stretch…by pushing her legs all the way back. Then she does pushups. He tells her she has nice tits. What the hell is going on here? She has him sit on the couch and tells him her husband is always gone, then rubs his cock through his shorts.
"Can I take it out?" she asks.
"What about your husband?" he says.
"He's not coming home," she promises.
Of course not. Because this is Demi the Porn Star, not Demi the Mommy. And fantasy is always better than reality.