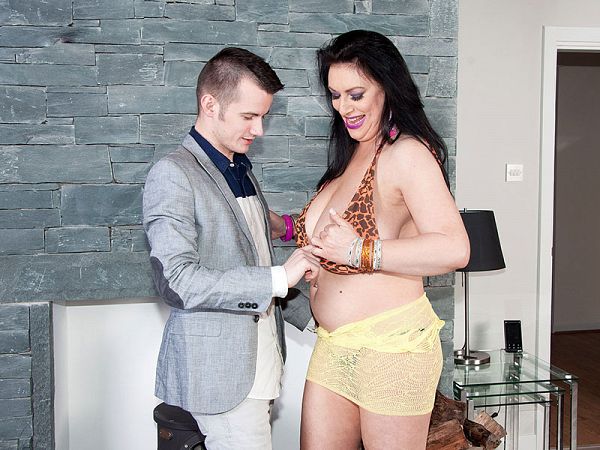 It's early in the morning, and there's a knock on the door. Sam answers to find a desperate brunette in need of help. Her car has broken down and her phone doesn't work. She needs to make a call.
But here's the deal: The lady at the door, 50-year-old British MILF Sabrina-Jade, is wearing a coat, and under her coat, she has on a bikini under a sheer dress. She's teetering in extreme heels. And she has huge, natural tits. Seems as if Sabrina-Jade has been out partying all night.
Sam, who's 22, lets her in and takes her to a room where there's a phone. He's amazed by the sight of her chest and she knows it. One thing leads to another and before long, he's being invited to feel her big, soft jugs. Sabrina-Jade never does get around to making that phone call.
Sabrina-Jade is from Bedfordshire, England. She's a seamstress. You know how seamstresses measure your pants, starting from inside your thigh and going down to the hem? Can you imagine looking down and seeing Sabrina-Jade with her big tits pouring out of a tight top, holding the measuring tape inches away from your crotch? You'd undoubtedly grow a size or two.
"I tailor my own clothes because my big breasts and small back can be a problem with standard sizes," Sabrina-Jade said. "I love sexy clothing and heels. I own many sexy dresses, catsuits, corsets, PVC and leather clothing, lots of boots and shoes and bondage outfits as well."
Really, though, she doesn't need anything to dress up those big tits and her curvy, voluptuous body. We'll take her naked.