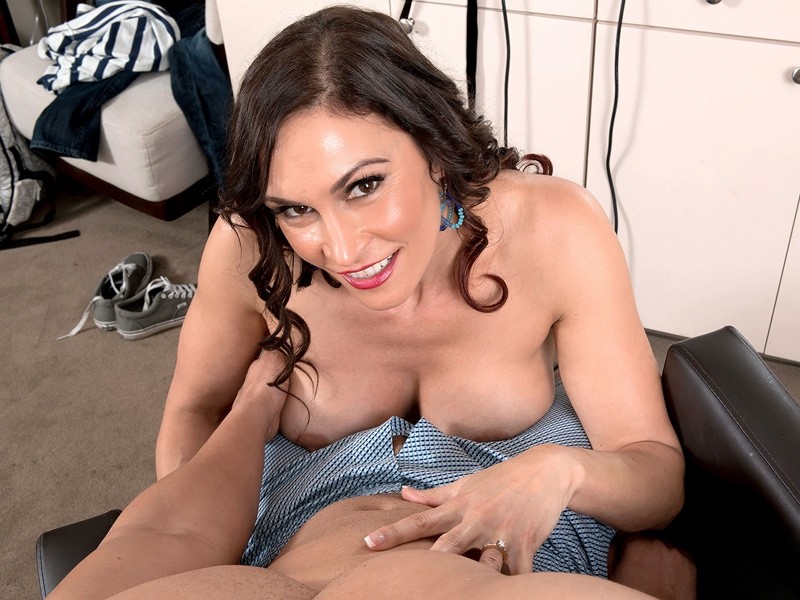 We've all had this fantasy: Sitting in the chair at a hair salon, having your hair done. The stylist is a hot MILF with a hot body, and she keeps brushing up against you. Why is she brushing up against you? Well, it could be because she has to get close to you to do her job. Or it could be because she's horny and wants your cock. From our experiences with hot, female hairdressers, it's the latter.
Raven LeChance, who's 46, is the hairdresser. Before the guy knows it, she's shoving her big, firm tits in his face and going down on his cock, right there in the middle of the hair salon. The hair cut is over (for now), and she's sucking his dick and sitting on his face and opening her mouth for his cum. We're guessing Raven gets very good tips with this kind of service.
Raven is married and from Florida (she grew up in Illinois). She's 5'6″, 132 pounds and measures 36D-27-37. She is the mother of an 18-year-old. She found out about us from Jodi West, who you can see at 40SomethingMag.com. She sure as hell didn't find out about us from her family!
"I come from a very conservative background, and my family and hometown friends would be shocked to see me here," Raven said. "But most of my current friends would not be surprised at all."
Raven is a swinger ("My husband and I started swinging with his best friend shortly after we started dating 15 years ago"). She loves when people watch her having sex ("It gives me even more energy than usual!"). And she once had a sixsome ("Three women, two men. They all took turns, in their own way, pleasuring me").
So what's it gonna be, guys? Cut or blowjob?