Chocolate cock and a facial for Gillian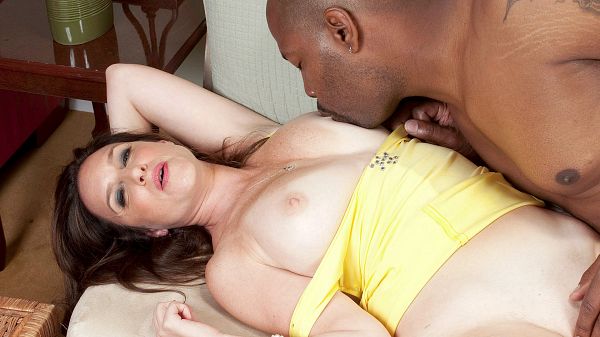 Brunette beauty Gillian Sloan wears a tight, low-cut, yellow dress. She claims her tits are 34Ds but they look much, much bigger. She turns around and lifts her dress to show the camera her very squeezable butt.
"I can't stop thinking about that nice, big, black, hard cock that's going to be filling my pussy," said Gillian, who used to be a hooker. Yeah, that's right. A hooker.
Gillian's worked up. She's ready to be boned. An assertive woman, submission to the BBC satisfies Gillian's fantasies of being taken.
"There's nothing like a big black man to satisfy me, make me cum. I can't stop thinking about him. I'm obsessed with big, black cock."
Gillian slips the top of her dress down, exposing her nipples. She has terrific tan lines.
"I want to tongue those heavy balls."
That she will be doing. And she'll be sucking his cock. And she'll be fucking his cock. And she'll take his load on her pretty face.
"I usually don't let men cum on my face or even let them fuck me bareback but since this is a big fantasy experience for me, too," she said. "I let my imagination loose and enjoyed every minute of it. I asked him to give me a facial. His cock was very big. I could barely get half of it in my mouth, it was so big. Lucas liked to be in control on every level. I could tell that right away. He dominated me completely and banged me really good. I think a lot of guys are going to cum when they see this."
Damn right.