Big, black and cumming in Seka's ass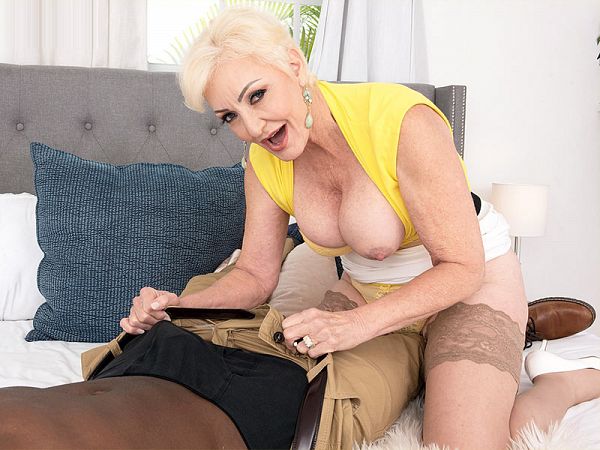 When this video opens, 64-year-old wife, mother and grandmother Seka Black is wearing a skirt that's so short, we can see the top of her stockings. She's telling us how horny she's been, and fortunately, she has a guy coming over. It's not her husband.
"I want to fuck him so bad," she says.
She tidies herself up, not that she needs any tidying up. Seka is blond and beautiful. Anyway, the guy shows up.
"Is everything alright?" he asks.
"I have a few things in the house that I need fixed. My husband's not home," she says.
He enters the house, although hesitantly. Not surprisingly, the repairs that need to be done are in the master bedroom. Hmmm.
"I don't see anything wrong in here, Mrs. Black," he says.
"Honestly," she says, "there isn't anything wrong, but I've had the hots for you for a long time. I can't wait to get fucked by you!"
And away we go!
She unzips his pants and takes out his cock. It's as big as she expected. Even bigger.
"I have got to suck your cock," Seka says, and then she proves she's not all talk and no action.
But we already knew that, didn't we? This isn't Seka's first time at 60PlusMILFs.com, and this is definitely not the first big, black cock she's sucked and fucked and taken up her ass. Yeah, that, too. And then the dude creampies her ass, so all's well that ends well, right?
Right!