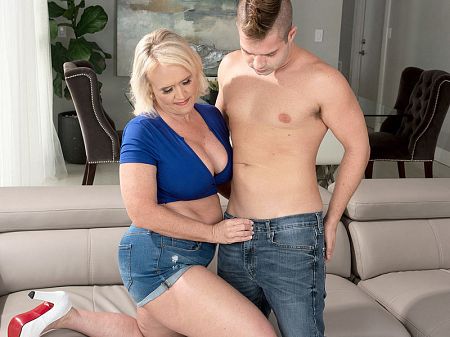 When this scene opens, 48-year-old Amber Lace is wearing short shorts and a halter top and doing some tidying up around her house. She turns and looks at the camera.
"Hi. I'm Amber Lace," she says. "I'm a mom and a wife, and today's a great day. I get to fuck on-camera for the first time. I get to fuck his nice, hard cock."
Nicky shows up and goes right for Amber's big tits, but before long, he's all over her ass. No surprise. Amber has an amazing ass. She measures 42 inches around her hips, and her ass is big, round and juicy. Nicky worships her big booty before Amber worships his cock.
A few things about Amber's dick-sucking skills: She's a lusty, enthusiastic cock sucker who goes deep and gags on Nicky's meat. She slobbers all over it and tries to get it as far down her throat as possible. She succeeds.
Amber told us she's passive in bed.
"I like my man to take control," she said.
But Amber definitely takes control here, especially where the BJ is concerned. Let's face it: When a man's cock is that deep in a woman's mouth, who's really in control?
We asked Amber if she'd ever had sex with a much-younger man (before today, of course), and she said, "Yes, and I married him."
Lucky guy.
Amber on being watched while having sex: "Sometimes it is a fun and exciting experience."
Amber on anal sex: "Yet, but not all the time."
Amber did not have anal sex when she visited us, but we asked our studs to give her booty a lot of attention. They didn't need to be asked twice. Sure, you'd love to fuck Amber's ass, but what you probably want to do most of all is worship it. Grab it. Squeeze it.
Nicky cums on Amber's ass. He didn't need to be asked.