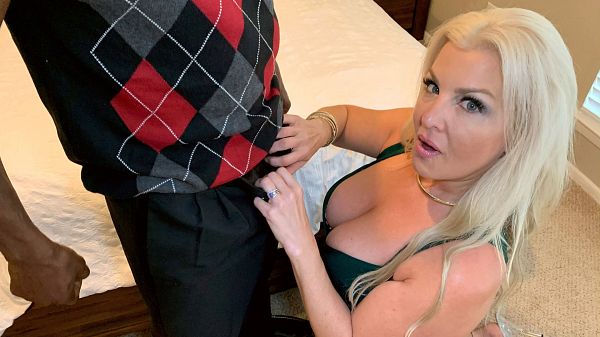 The MILF is 46-year-old wife and mom Taylor Leigh.
The stud is Coach Cardher. Nice name.
And the photographer, who's unseen, of course, is Taylor's hubby.
This scene was shot at the Leigh residence. Taylor is horny. She's always horny. Coach Cardher shows up for a visit.
"I've gotta see what he's working with," she says, meaning his cock. She gets down on her knees and hungrily swallows his rod, slurping all over his cock and balls. She holds his hard-on up so his cock doesn't slap her on her pretty face while she's getting tea-bagged. He eats her pussy while tugging on her nipples then he fucks her face. And then he slides his cock deep inside her pussy.
And all this is happening while Taylor's hubby is watching and capturing the whole shebang on camera.
"Guy are pretty simple," Taylor once told us. "In fact, they're like dogs. All they need to be happy and satisified is to be fed, fucked and complimented. So I love to cook for my man, please him regularly–hand jobs, blow jobs, fucking–and thank him for, say, mowing the lawn. It's all in the little things you do on a daily basis. I write about that in my book, SeXXXperience. On the other hand, women are more complex, kind of like cats. We need to be acknowledged and appreciated, so I get told I'm beautiful and sexy all the time, listened to when I have an issue and, of course, pleasured on demand."
Taylor enjoys throwing dinner parties. She's worked as a flower arranger and a server at an upscale country club. She's also been an escort. She calls herself a hot wife.
"A hot wife is a wife that has quite a high libido and is able, with her husband's agreement, to explore fantasies with him or on her own," she explained. "That's what we do, and it makes both of us very horny."
We don't know for sure, but we'd bet Mr. Leigh got his after this scene was shot.