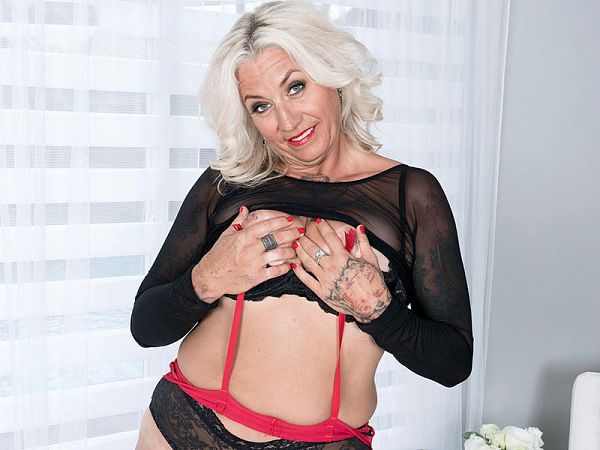 "Nothing I do surprises people," 48-year-old divorcee and mom Amelia Mack told us when she debuted at 40SomethingMag.com.
Getting her mouth and pussy fucked by JMac's big cock?
"No surprise," she said.
Getting ass-fucked on-camera?
"They'd expect it," she said.
Today, Amelia's toning it down a bit, but that's okay because we have her all to ourselves. She's wearing a black, sheer top that does nothing to hide her pierced nipples and tan-lined tits (Amelia was born in Milwaukee, Wisconsin but now lives on the beach in Florida). She's wearing a short skirt, little panties, stockings and a garter belt. This white-haired MILF lies back and fingers her pussy then gets on all fours and shows off her fuckable ass.
"My pussy is so wet," she says. "I want you to fuck me and cum. Cum all over me."
This video is loaded with jack-off encouragement, not that you'll need any when you see Amelia in action. And, by the way, if you live in a place that has thin walls, keep the sound down. Amelia's a screamer.
Amelia's sexual fantasy: "Men getting off to me, so how crazy is this?"
Amelia married her high school sweetheart. They were together for 30 years. Then they got divorced and she went wild.
"After my divorce, I learned I could squirt, but I can't do it myself, and I get so full, so if I get drained, that feels great," she said. "I also love getting fucked hard doggy-style."
Amelia calls herself a flirt. She loves fucking younger men "and they love me!"
She's had sex with women "years ago. I never ate pussy, but I love tits."
We love Amelia's pussy and tits. Enjoy.