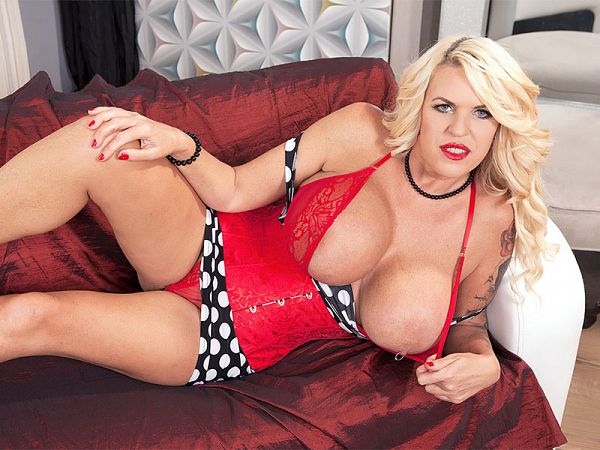 Shannon Blue is a 53-year-old divorcee, mother and grandmother with huge tits, blond hair and blow job lips. She got those MM-cup tits with the money from her divorce settlement. Some people buy a car or a house. Shannon bought tits. Great investment. If she hadn't, we never would have known about her.
Shannon first came to our attention in 2017, when the UK tabloids made a big deal out of what she did with her divorce money. We didn't think that was so shocking; a lot of MILFs divorce and get bigger tits. But the UK tabloids thought it was a big deal, so we got in touch with Shannon, and before long, we had her in our studio, sucking and fucking on-camera for the first time for 50PlusMILFs.com and SCORELAND.
Today, Shannon is wearing a red corset that emphasizes her tits even more. They don't need emphasis, but we're not complaining. Neither is Shannon.
"I was very thin when I was younger and I had very small, perky breasts," Shannon said. "I played hockey and tennis in school. I always wanted huge boobs and now I have them. I admire women with very big chests. I get a lot of attention now from males."
Shannon has pierced nipples and a pierced pussy with lots of jewelry. She spreads and fingers her pink and fills her ass with a butt toy. This isn't the first time we've seen Shannon with her ass filled. She got ass-fucked by two hung studs in one of her scenes at 50PlusMILFs.com.
"I love anal sex," Shannon said. "My ass is very tight and it is very good for both my lover and myself."
Shannon says she has no special talents. We disagree.
"Who needs a talent when you have large breasts?" she said "I have no time for hobbies. I wish I had done this sooner."